Sony WF 1000XM4 – Can You Use Them for Workouts? [Review]
This site contains affiliate links to products, and we may receive a commission for purchases made through these links.
Yes, you can do your workouts with Sony WF-1000XM4. The earbuds have tips with memory foam that keep the earbuds in place, and they can withstand sweat and light rain with an IPX4 rating. The battery can also last for a long workout with 8 hours of battery life.
However, if you're shaking your head a lot during training, there are other products on the market with less risk of falling out. But for regular workouts, you're finally getting earbuds with high-quality sound and good noise canceling.
If you want my honest review of the Sony WF 1000XM4, please keep reading.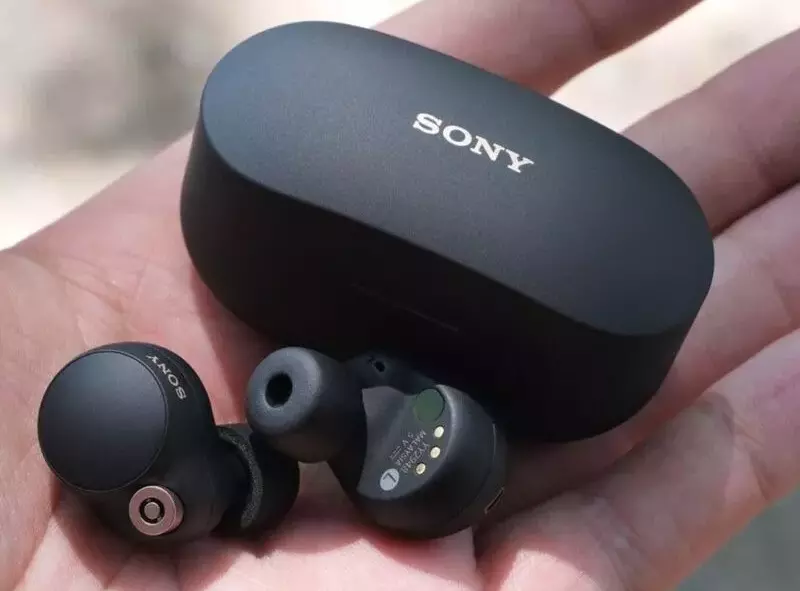 The Good
Lots of bass
Broad stereo perspective
Good treble reproduction
Nice look
Very compact charging case
Wireless charging is in place
The app corrects the fit in your ear
Touch sone can be turned off
Moisture and sweat-resistant (IPX4)
The Bad
It comes only with memory foam tips
Still not great for phone calls
Sony WF-1000XM4 offers solid sound with good noise cancelling and several practical improvements!
1. What Are The Most Important Improvements from Sony WF 1000XM3?
Sony's XM4 plugs are excellent and a little better than its predecessor. The earbuds are physically smaller, so is the charging case, and the rubber tips are replaced with memory foam. The XM4 has better battery life and lasts for 8 hours per plug instead of 6 hours, and you can charge it wirelessly.
Sony has improved the water resistance and upgraded to IPX4-certification, which means they can withstand water splashes from all directions. In the past, you typically had to go for exercise-oriented earplugs to get some with guaranteed water resistance.
Suppose you wanted to use earbuds with the best sound quality; you usually had to try not to sweat and avoid going in the rain. With the WF-1000XM4, that worry can be left at home.
Sound quality has always been important with this series from Sony, and some improvement can be seen in the new model. The bass foundation and stereo perspective are better than before and maybe better than most competitors. I will come back to the sound quality later on.
The noise-cancelling was very good on the old model and still is on the new one. When it comes to calling quality, it has been improved somewhat, but I still don't think it's good enough.
Some new features have been added, like the LDAC-codec, which can give you higher sound quality, and Bluetooth 5.2 with LE-audio.
READ MORE!

Bluetooth 5.0 to 5.2: All You Need to Know (Upgrades Explained)
2. How Good Is the Sound Quality of Sony WF-1000XM4?
The XM4 does not offer any major surprises on the audio front, they are very good. Very briefly, it can be summarized as follows; one of the broadest stereo perspectives you can get in ordinary earbuds, a rock-solid bass foundation, and a well-defined – but not sharp – treble. Round and nice midrange, which once in a while ends up in the background for the insane bass reserves.
They slightly tend towards a dark and bass-heavy playing style.
Compared to the previous generation, the sound is "technically" better, the treble is a little clearer and the stereo perspective is experienced as broader. But the x-factor in the form of dynamically engaging sound might be a little weaker.
Headphones and earbuds that hope to reach broad groups of listeners tend to do well with electronic music and R&B – including these. If there's anything special to note, it's how insanely deep the bass in these earbuds can go if you really persuade them.
Sony has added new drivers in the XM4's compared to the previous generation, but it's no additional or larger drivers per plug, as far as I know, only one 6-millimeter driver in each. Earplugs that handle such large amounts of bass without straining the rest of the soundscape are a rarity, and we usually talk about variants with two or more drivers.
READ MORE!

Apple Airpods (3rd Generation): 15 Things You Should Know
In short; If you listen to very bass-heavy music, you may want to consider looking at the equalizer to tune the sound to perfection.
On other types of music, this slightly darker tendency and the bass reserves can come in handy, especially for older rock and pop that has a somewhat thinner production in the first place. Old electronic music can also sound brilliant with these earbuds.
If you like listening to jazz, the XM4 can sound very good, where the combination of double bass, sharp drum sounds, and piano works like harmony.
Also, heavier rock plays well on XM4, which should thus be a safe purchase for most people with common musical preferences.
3. Is the Call Quality on Sony WF-1000XM4 Any Good?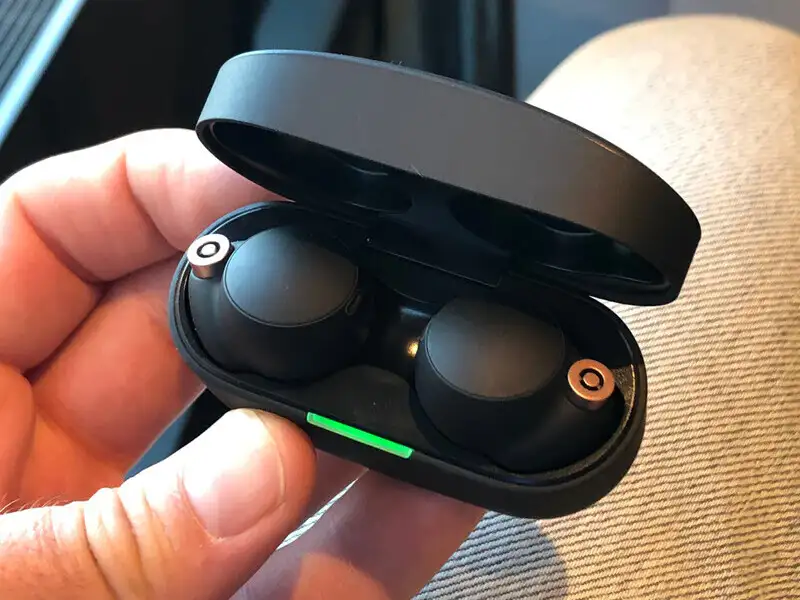 One thing the previous generation was criticized for was the quality during calls. They worked well in completely quiet rooms, but as soon as you got some noise or wind around, the conditions quickly became quite untenable.
With the WF-1000XM4, Sony has improved its quality to some extent. In conversations, the voice itself is clear but it's not much dynamics in the sound, and from time to time, it can still be challenging to distinguish what the other part is saying.
As with other brands, I experienced that the powerful noise-cancelling effectively removes background noise but can make the voice difficult to hear.
From the user side, I notice that they switch to ambient mode as soon as the conversation starts, and it's a bit unusual at first since you hear yourself both inside the blocked ear canals and through the earbuds. But you get used to it quickly, and it might help you shout less, as many people tend to do when they talk through things that clog their ears.
For mobile calls, these earbuds have gone from not acceptable to somewhat acceptable. If you're planning to talk a lot on your phone, it's probably still not Sony's earbuds that are the right answer for you.
4. Is the Active Noise Cancelling on Sony WF-1000XM4 Any Good?
Active noise-cancelling has been one of Sony's strongest features in all their products in recent years and continues to be so in the XM4. At their best, these earbuds can make the environment completely melt away. Although, they have a few peculiarities.
The first one tricked me for a moment into thinking that the noise cancelling didn't work. I am used to a reasonably clear difference between on and off in noise-cancelling functions, but with these earbuds, the "volume" of the muffling is gradually increased, and not instant.
Everything from very noisy air conditioners to traffic and the sound of your shoes against a gravel road muffled quite effectively by these earbuds. It is worth noting that Sony distinguishes between wind attenuation and noise attenuation, and you can choose what you want. Convenient for people who, for example, cycle and want less wind in their ears.
5. Sony WF-1000XM4 – How Is the Comfort?
Sony completely replaced the standard rubber plugs with foam rubber, or "memory foam".
To make the WF-1000XM4 fit the best I figured it's best to push the earbuds towards the ear canal gently and turn the rear part of the plug down into the «ear hook». Then you have to trust that the foam expands and seal the ear.
When the plugs fit correctly, they fit just as well in this generation as in the previous one. At the same time, ear canals are very individual. Although the mechanism of foam expanding sounds like something that should work for most people. It would have been better to include several types of tips in the box for those who don't get the right fit.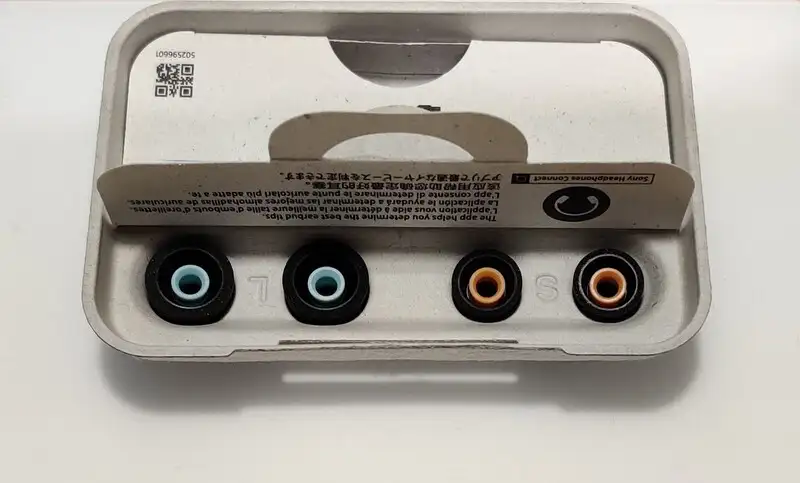 Sony has included an automatic check in the app to see if the earbuds sit correctly in your ear. The check is quick and straightforward and works fine. The app only suggests that you twist the plugs or try another set of foam tips.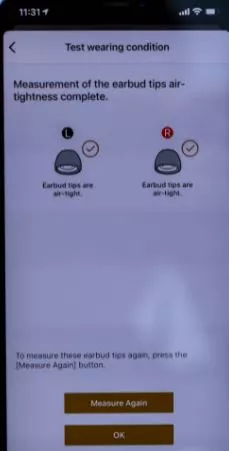 When they actually sit correctly, you are told that you have a good seal and can move on. If you doubt whether the WF-1000XM4 is correct, this function saves a lot of frustration.
6. How Do I Pair My Sony WF-1000XM4?
Computer
Step 1
Before you can connect a Bluetooth device to your computer you need to make sure the computer is Bluetooth compatible and that the Bluetooth settings are turned on. You can turn it on by going to [windows settings], then [Devices] and [Bluetooth & Other devices] and turn Bluetooth on: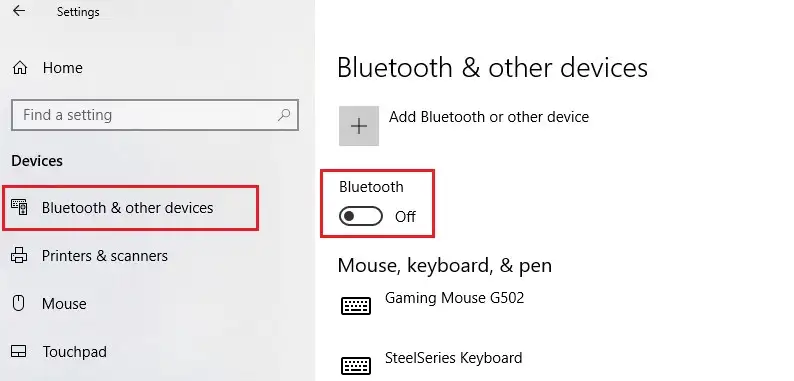 Step 2
After Bluetooth is turned on you need to remove both earbuds from the charging case. When you do this the earbuds turn on automatically.
Step 3
If you pair the earbuds for the first time after purchasing them, the earbuds enter pairing mode automatically when removed from the charging case. In this case, put the earbuds into both ears and go to step 4.
When you want to pair the XM4 for the second time or on other devices, put both plugs into your ears, then hold your fingers on the touch sensors on both earbuds for 5 seconds to enter pairing mode. You will hear a beep when the pairing mode has turned on.
Step 4
If you are using the Swift Pair function on your computer, a pop-up will show and you can click [Connect] to pair the device.
If you don't use Swift Pair then go into the [Bluetooth settings] as explained in step 1, and select [WF-1000XM4]. Click [Pair].
You might experience a question about a Passkey when connecting. In this case, the password is "0000".
iPhone
When connecting the Sony WF-1000XM4 to an iPhone you need to follow step 2 and 3 above to get the earbuds into pairing mode.
When the earbuds are ready, then go to your iPhone and select [Settings], then [Bluetooth] and turn the Bluetooth function on.
Then touch [WF-1000XM4]. If you get a question about a passkey, then enter "0000".
Android
On Android, first, follow steps 2 and 3 above. Then go to your Android device and select [Settings], then [Device connection], and lastly [Bluetooth]. If Bluetooth is turned off, then turn it on here.
Then the WF-1000XM4 should turn up and you can touch where it says [WF.1000XM4].
If the passkey turns up, then enter "0000". If you want to learn how To Disable a Bluetooth Passkey on Android, then take a look at this article.
7. How Does the Controls on Sony WF-1000XM4 Works?
Since you won't find any buttons on the XM4 you will need to learn the different commands that the touch controls offer. The left earbud can only use "One-tap" control, while the right earbud can do more. Here is a brief overview:
One tap
On the right earbud, one tap is "play/pause". On the left earbud, you can control Mute, ANC, and Ambient sound with one tap.
Two tap
On the right earbud, two taps are "Track forward/answer call".
Three taps
With three taps the right earbud will do the command "Track backward".
Long press
With a long press on the right earbud, you will activate the "smart assistant".
If you want to enter pairing mode, press both earbuds for 5 seconds until you hear a beep. If you remove one of the earbuds from your ear you will automatically pause your music.
7. FAQ
Can you use Sony WF-1000XM4 individually?
Yes, you can. Sony WF-1000XM4 is using the new Bluetooth 5.2 technology, which enables the earbuds to work individually.
Does Sony WF-1000XM4 have spatial audio?
Yes, Sony EF-1000XM4 supports spatial audio. Sony is using a different name so you need to look for Sony's 360 Reality Audio.
However, you need a compatible music streaming service like Deezer or Amazon Music HD.
What is LDAC audio?
LDAC is a new Bluetooth audio codec from Sony that will give you higher quality audio via Bluetooth.
With this codec, Bluetooth is able to transmit 3x the data compared with lower quality audio codecs. This means that you can enjoy audio files with higher quality.
How many hours does the battery life of WF-1000XM4 can last if noise Cancelling is on?
Battery life: Up to eight hours of ANC play from each earbud or 12 hours with noise-canceling switched off.
8. Conclusion
Yes, you can do your workouts with Sony WF-1000XM4, and you can do it while experiencing high-quality audio and with a very good active noise canceling. They have a good fit and with an IPX4-rating you can use them while sweating and even outside in light rain.
The Good
Lots of bass
Broad stereo perspective
Good treble reproduction
Nice look
Very compact charging case
Wireless charging is in place
The app corrects the fit in your ear
Touch sone can be turned off
Moisture and sweat-resistant (IPX4)
The Bad
It comes only with memory foam tips
Still not great for phone calls
---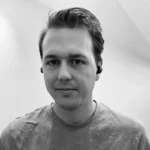 Espen is the Director of ProPairing and has written extensively about Bluetooth devices for years. He is a consumer product expert and has personally tested Bluetooth devices for the last decade.
---