Can You Use Logitech MX Master 3 For Gaming? (Full Review!)
This site contains affiliate links to products, and we may receive a commission for purchases made through these links.
Logitech has made a clear distinction between gaming and productivity equipment in recent years, with the G-Series and MX-Series, respectively. But can you use Logitech MX Master 3 for gaming?
The tracking on the Logitech MX Master 3 is too slow to keep up with the fast movements you need in games like FPS. With a maximum DPI of 4000, I would only recommend using it in casual games where speed is not of the essence.
Please keep reading if you want more information about the gaming abilities and my honest review of the Logitech MX Master 3!
Pros
Precise tracking for all office use

USB-C charging

More intuitive function keys

Control three machines seamlessly with Flow

Good software

Smooth and silent scroll wheel and thumbwheel

Ergonomic

Can be paired to three machines

Connect with Bluetooth or Unifying receiver
Cons
Not for the left-handed

Too slow sensor for gaming

Expensive as an upgrade

Best suited for bigger hands
Can You Use the Logitech MX Master 3 for Gaming?
The new master mouse tracks well for normal work and is perceived as precise and smooth. This applies both when connected via Bluetooth and when using the included small Unifying receiver.
You can change the DPI based on whether you are tampering or using programmable keyboard shortcuts on the mouse or software. It's also worth noting that the mouse, like its predecessors, works on "everything," including glass.
For fun, I pitted the MX Master 3 against a G502 from the same manufacturer. Then it was obvious that the former was not a gaming mouse. The tracking was far too slow to keep up with fast movements, and it literally jumped across large sections of the screen at a time.
The Logitech MX Master 3 has a maximum DPI of 4,000, which, when compared to the G502's 25,600 DPI, explains why it's not fast enough for gaming.
So no, I would not recommend using the MX Master 3 for games where speed and accuracy are important like FPS games. For casual gaming, it works fine.
What Is the Difference Between Logitech MX Master 3 and MX Master 2S?
To start with the obvious: You can already see from the pictures that the MX Master 3 is not a revolution in the series, but rather a further evolution as the predecessor MX Master 2S was for the original MX Master.
Among the biggest news, we find:
Completely silent «magnetic» scroll wheel
Updated charging solution with USB-C connector
More ergonomic placement of buttons
More powerful app-specific customizations
Product
Scrolling
Scrolling
MagSpeed/SmartShift
SmartShift
Thumb Wheel
Flow Control
Flow Control
Up to 3 devices
Up to 3 devices
TrackAnywhere Sensor
TrackAnywhere Sensor
Yes
Yes
Power
Silent Scrolling
DPI
Weight (g)
Battery Life (up to)
Battery Life (up to)
70 days
70 days
Is Logitech MX Master 3 Ergonomic and Comfortable?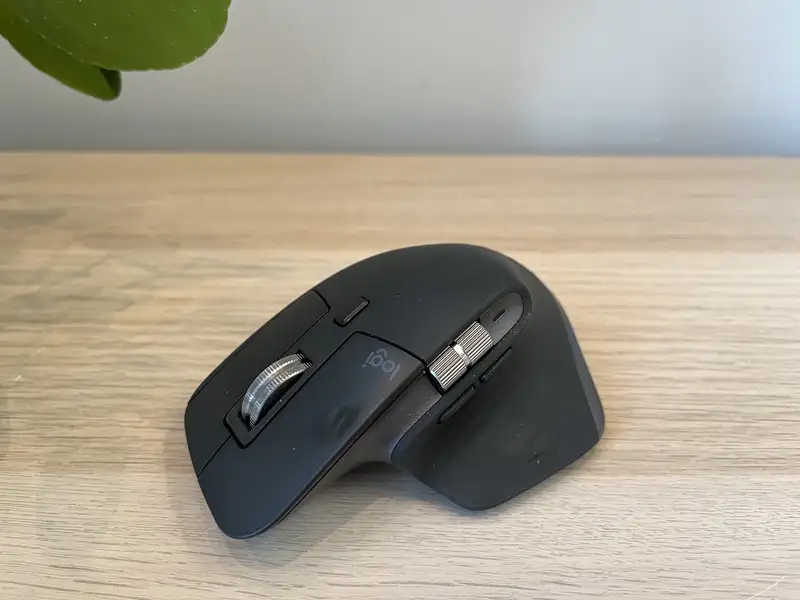 Yes, MX Master 3 is ergonomic. One of the most important features of a mouse is that it fits in the palm of your hand, is ergonomic, and has easily accessible buttons.
For those of you who are familiar with the Master series predecessors, this mouse feels very similar and requires you to grip it in the same way, but with a few adjustments.
Among other things, the MX Master 3 has grown a few millimeters taller and has a design that curves even more to the right. This contributes to the hand now embracing the back of the mouse to a greater extent, while also forcing it further to the right than before.
It provides a little more comfort for you if you have very large hands or long fingers, but it also feels a little heavier to move to the right when compared to previous MX Master mice because you now have to push parts of your own hand in front of you.
It also takes a few days to get used to holding the mouse so that the front of the mouse points slightly to the left rather than straight ahead. Because this is quite large to hold, those of you with smaller hands may want to try it before purchasing.
More importantly, Logitech has made changes to the left side of the mouse, which houses the thumbwheel as well as the forward and back buttons.
The thumbwheel has been doubled in size and given its own "row." It is consistent with Logitech's increased emphasis on customizing this and other buttons with app-specific features such as adjusting the brush size in Photoshop, scrolling between tabs in the browser, or directly panning the storyline in Premiere.
The mouse now simply invites you to use the extra features it provides to a greater extent than before.
The back and forth buttons on previous MX mice were also directly opposite and very close together, which was a major issue. All too often, you pressed the wrong button or had to adjust your grip to hit precisely.
The buttons are now in a separate row next to each other, within easy reach of the thumb, and sufficiently separated that nothing can go wrong.
Does Logitech MX Master 3 Have Electromagnetic Scrolling?
The scroll wheel has always been a highlight with the MX series. Even if you have to manually switch between normal and free scrolling on MX Master 3 (which was automatic with the second generation), the wheel has never been more refined as it is now. As a result, it has its own name: "MagSpeed."
MagSpeed has advanced to the point where it now employs built-in electromagnetic pulses to adjust the scrolling speed and maintain a stable speed in stepless mode.
Logitech claims that you can scroll past 1000 lines per second, but more importantly I now believe that the scrolling has become completely silent and precise regardless of speed. Even in step mode, I can hardly hear it, and the "clatter" sound from Master 2S has vanished.
What Features Are Included In The Logitech MX Master 3?
It's fine if fast games aren't a mouse focus area. MX Master 3 shines brightest when used on a daily basis and in productivity applications.
I'll highlight four distinct features that set the mouse apart from the crowd. Some of them require the Logitech Options software to be installed in order to function, but it is highly recommended for this mouse.
1. App-Specific Shortcuts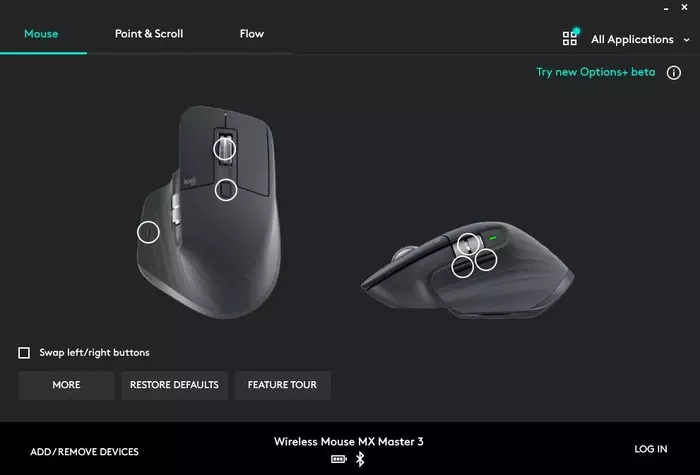 The first feature, and one of the biggest news, is that it can be customized with app-specific shortcuts, which is only available with the MX Master 3.
While the MX Master 1 and 2S buttons could be assigned to different functions depending on the program, they could not be used to control any of the tools directly.
For example, in MX Master 3, you can configure the thumbwheel to change the size of the brush, the scroll wheel to pan the image, and the forward/back buttons to undo or redo in Photoshop.
Similarly, in Premiere, you can use the thumbwheel to scroll across the timeline, quickly scroll through open tabs in Chrome, and pan or zoom in without using keyboard shortcuts in Word.
When the mouse handles everything on its own, the result is increased workflow.
2. Pair with Multiple Devices Simultaneously
Second, Master 3 can (still) be paired with up to three different devices at the same time. It's convenient to be able to switch between the laptop and the desktop – possibly the private and work machines – with the click of a mouse button.
3. Hidden Smart Button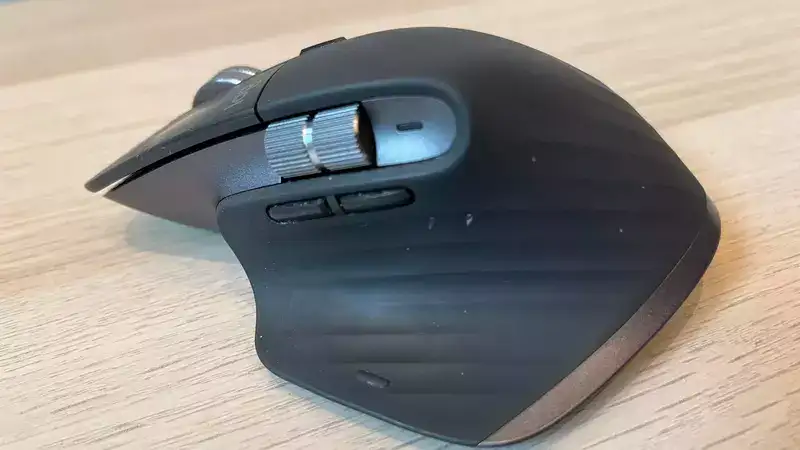 Third, Master 3 (still) has its own "gesture" button hidden in the small shelf where your thumb rests. Depending on whether you move the mouse vertically or horizontally while pressing down, you can perform a number of different commands and shortcuts.
You can, for example, assign "Up," "Down," and "Left / Right" movement to act as volume up / down and next / previous song controls, i.e. a media controller.
Do you have to deal with large, cluttered documents? The gesture button can then translate corresponding movements to zoom in and out, as well as rotate left and right.
You can also pan in the direction of your mouse movement, quickly switch between different desktops, switch between active programs, and much more.
If none of the presets appeal to you, you can design your own layout using a list of over 40 properties. For example, opening a web page, searching for files, or using keyboard shortcuts like "Ctrl + Alt + X."
You can perform similar functions, such as displaying the desktop, changing the DPI on the mouse, or taking a screenshot, by simply clicking with the gesture button or the scroll wheel. So the possibilities are numerous.
4. Flow
The fourth function I'd like to highlight is Flow. This was big news when the MX Master 2S was released a few years ago, but if you have an original MX Master, this could be the time for an upgrade.
Flow allows you to seamlessly share the mouse and keyboard, as well as the clipboard, between multiple machines.
There's something very special about using the same keyboard and mouse to control two different machines, and it worked flawlessly during my testing.
I only told the software how the different screens should be positioned in relation to each other, and then the mouse pointer vanished from one screen and into the desktop of the other computer.
Okay, there was a slight delay in the transition, but I didn't notice any delay when the pointer was used on the "extended" desktop.
If you use "hot corners" in MacOS, you can also configure Flow to prevent the pointer from sliding between desktops in the corners.
READ MORE! 21 Answers About Logitech MX Keys Wireless Keyboard
Should You Buy an MX Master 3 or Upgrade From Master 2S?
If you don't already have an MX Master mouse, I don't think you'll find a more versatile case if you value customization, flow, and support for cross-device use.
Flow is simply brilliant for those of you who have multiple machines, whether they all run the same operating system or a combination of them. The gesture button also provides far more options for the mouse on its own.
All of the master mice are ergonomically designed and fit well in the hand, but the reason I would recommend picking up an MX Master 3, which costs twice as much as its predecessor, is because Logitech has made improvements in areas such as button setup and scroll wheel.
It has simply become much easier to press the buttons on the mouse's left side, and I adore the completely silent scroll wheel.
Furthermore, it was past time for the mouse to support USB-C charging. It charges the mouse for several hours of use in just under three minutes, just like its predecessor.
It's convenient, but more importantly, you'll probably find it easier to find a USB-C cable than a Micro-USB cable in the future, and you won't have to miss the charger half the time you plug it in.
Thus, the app-specific shortcuts are merely a bonus on top of all the other nice enhancements.
Conclusion
If you already own an MX Master, you might want to consider upgrading if you want to use the Flow function, have a longer battery life, or use app-specific shortcuts. The price increase makes it more difficult to defend for MX Master 2S owners.
Because the battery life and sensors have not been improved, you may want to purchase the Master 3 if you frequently miss the buttons on its left side and view the cost as an investment in fewer errors.
Whatever your reasons for considering an MX Master 3, there is no doubt that this mouse is designed for productivity, and Logitech should be commended for combining the hardware with actually useful software. That is not something that everyone is capable of.
---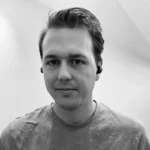 Espen is the Director of ProPairing and has written extensively about Bluetooth devices for years. He is a consumer product expert and has personally tested Bluetooth devices for the last decade.
---