Is Jaybird Vista 2 Waterproof? Full review!
This site contains affiliate links to products, and we may receive a commission for purchases made through these links.
Sweating while wearing headphones can feel a little awkward, but these earbuds meet the US military standard MIL-STD 820G and are also waterproof (IP68). These ratings mean that they are dustproof, resistant to shocks and blows, and you can immerse them in water under pressure for long periods at a time.
Thus, Vista 2 becomes a new earplug that feels perfectly good to use in many different contexts like sweaty workouts and swimming. The charging case is rated IP54, which means they are protected from water splashes, but keep them out of the swimming pool.
I have noticed that multiple people talk about these as the perfect earbuds for workouts. It's time to put them up to the test. Keep reading for my full review of the Jaybird Vista 2.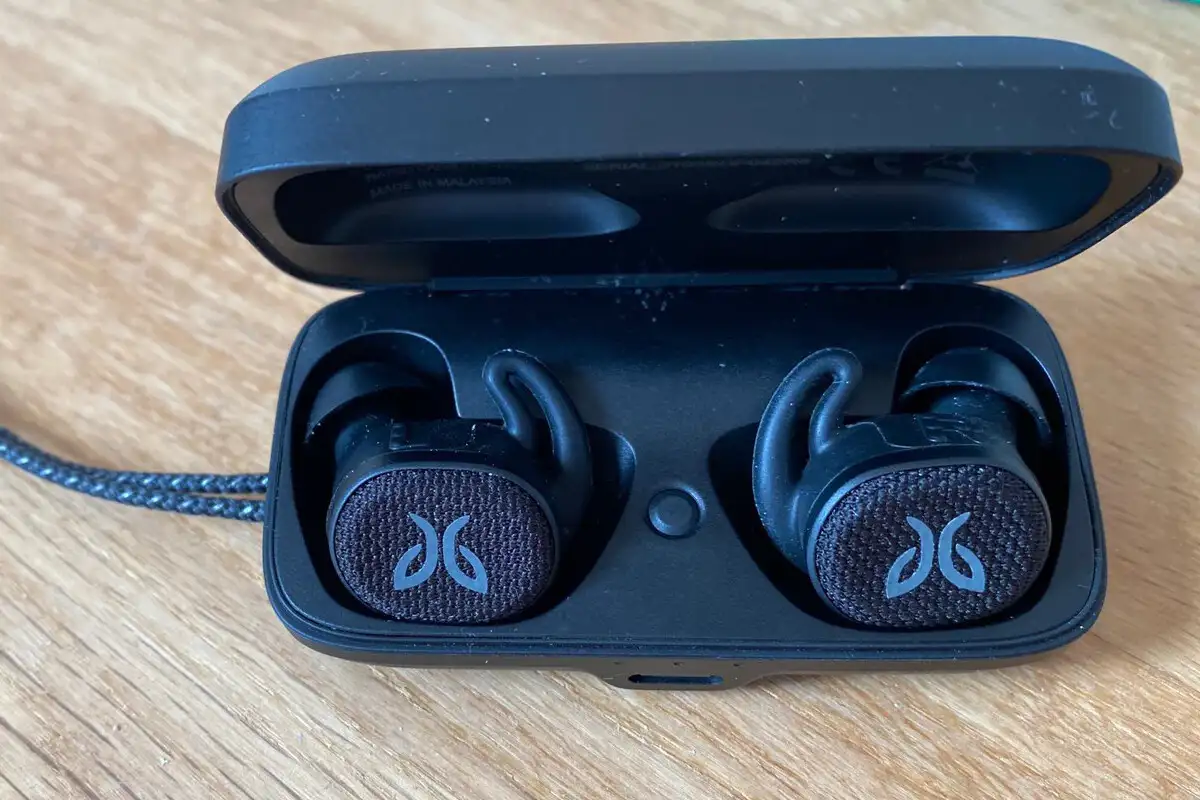 Jaybird Vista 2 – Perfect For Training
Reason to buy
Engaging sound
It fits very well in place
Multiple control options
Active noise canceling
Compact case
Reasonably battery life
Waterproof (IP68)
Things to consider
Maybe not as refined sound as the very best
Wingtips and actual ear tips are attached; not very flexible
Noise Cancellation is very sensitive to wind
Poor call quality in noisy environments
These are a pair of earplugs adapted for training. They fit like a glove, and it's easy to keep them clean as they are waterproof and can be rinsed off in running water. The Jaybird app is user-friendly and very, very good! The sound is excellent but lacks some fullness, and sometimes the bass does not go deep enough. But as training earbuds, with the challenges and prerequisites that exist there, they work perfectly.
What's new with Jaybird Vista 2?
After a few mediocre attempts, Vista was the first product from Jaybird that got me excited. They had a proper fit, good sound, a compact case, and were generally easy to use.
Now version two is here, with better battery life, active noise canceling as the two biggest news. On the outside, it's not much that separates Vista 2 from the original, and Jaybird has mostly kept the same design on the charging case but rounded the edges somewhat.
READ MORE! Are Bluetooth Devices allowed on planes? (Solved)
Jaybird has not changed what worked best with the first edition, namely the proper fit. As far as I can see, it's mostly the same wings and rubber tips that apply to Vista 2, and for me, the standard size is perfect.
In addition, you get a smaller and larger size, although I would like to see that it was possible to change only the wingtip and not the ear tip or vice versa. These are still the same construction, so you can not choose a large wingtip and a small ear tip, which is a bit of a shame. It could potentially make the fit even better – or somewhat less problematic if Vista 2 does not fit as well as they do for me.
How is the Comfort?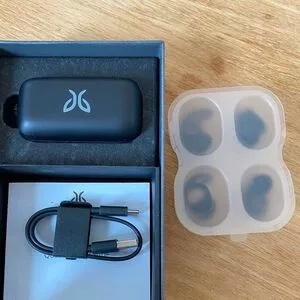 For me, the fit is perfectly made, and I'm not even able to shake my head enough for them to fall out. They are stuck in place, and I have never experienced them falling out. The wings themselves are somewhat stiffer than the wings found in some other brands, which in theory can be a comfort challenge. But I've not noticed any problems with wearing them for long periods.
There seems to have been an improvement on the first model on the comfort front, although some models without wings will probably be even more comfortable to wear.
How is the sound quality?
The sound is also recognizable here, but it seems like Jaybird has changed how it sounds out of the box. The first generation felt a little "flat" with the standard settings, which I would characterize as somewhat dull. With the Signature setting in the Jaybird app, you could make the quality a lot better.
With Vista 2, it does no longer applies – the default setting is somewhat more interesting than it was in the first edition.
It is well-balanced and has a relatively well-resolved and nice treble, but I'm missing a little more impact at the bottom, especially when it comes to sound mainly intended for training.
However, the signature setting is a bit overkill and blurs the sound image with too much bass and midrange, so the solution was to create a separate equalizer, jacking up the bass somewhat and leaving the rest. The result was reasonably good with this setting and gave a little extra "oomph" at the bottom of the register and a slightly more engaging and fun sound.
The equalizer itself is easy to use, and you can save several custom settings if you need to.
Acoustically, it's still a distance up from Jaybird to some of the best, such as Sony and especially Sennheiser. The Jaybird earbuds lack a little sophistication, for lack of a better word. The treble could have been somewhat more defined, and I'm missing a slightly larger and more airy sound image.
But especially for workouts, these adjustments are not as important, and for such use, the Jaybird earbuds tick off all the boxes and work perfectly.
For codecs, you get AAC and SBC, but not Aptx. That may be a minus for some.
How is the noise Canceling quality?
The active noise-canceling, which is a newcomer to Vista 2, is also perfectly fine. It adds something but can not be said to be as effective as the one on Apple's AirPods, as an example.
The noise-canceling here is also quite sensitive to wind, which is tiring in any outdoor use scenario. The solution was usually to turn off the noise-canceling when outside, which is a bit opposite of the purpose of noise canceling.
At the same time, I must say that the ambient mode, here called "SurroundSense", has excellent wind filtering – probably better than I've heard of any other true wireless product.
In that sense, it is a little annoying that Jaybird has not managed to bring some of it into the active noise canceling. The wind filtering also makes the ambient mode much weaker to feed the surroundings in, but it is a great advantage to let go of the wind noise on a bike or running trip.
How are the Buttons of Jaybird Vista 2?
Since the previous generation, Jaybird has added a slightly rough surface on the buttons placed on the outside, one on each of the earbuds. They have also squeezed in most of the commands we could wish for on the two buttons.
One press plays or pauses, double-press on the left jumps a song back, on the right a song forward. Double-tap switches between active noise canceling, ambient mode, or none of them. To adjust the volume, you hold down the button. You reduce the volume on the left and increase it on the right.
You can choose to change a few of the functions on each of the buttons previously mentioned (double-tap and hold) you can choose to turn off. It takes some time to learn what the different commands do, and I would wish that Jaybird gave us complete freedom to configure all the commands at will. The buttons react as they should to both my taps and presses.
How to connect Jaybird Vista 2?
Pairing with new devices takes place using a button in the charging case. You hold down the button while the earbuds are still in the case to put them in pair mode, and then you can search for the plugs on the desired device.
It works great and is a much better solution than some other variants I've seen around, such as holding down the buttons on both plugs for five seconds and ask higher powers to understand what you are trying to do.
What is the battery life of Jaybird vista 2?
The battery life is stated at 6 hours with active noise cancellation active, possibly eight hours without noise canceling. It seems to be relatively correct, but I'm a little more skeptical about them claiming the case has two extra full charges.
Here is the impression that the charging case is empty a little faster than I expected, but you should probably still be able to squeeze out at least 15 hours in total with noise cancellation active and somewhat more it turned off.
In a perfect world, I would like the charging case to have a slightly more precise battery status indicator, but you can at least see the remaining battery percentage in the Jaybird app.
READ MORE! How Can I Make My Wireless Earbuds Last Longer? (Solved!)
How is the conversation quality?
The call quality is absolutely accepted indoors and in quiet surroundings, but the earbuds struggle more when I get outdoors.
The noise reduction in the microphones seems weak, and if, for example, a car drives by, my voice disappears and blends with the vehicle. The excellent wind filtering from the SurroundSense mode is not included in conversations, and all wind noise propagates into what the other party hears.
Overall, they are all right, but many other brands make conversations in a noisy environment better than the Jaybird.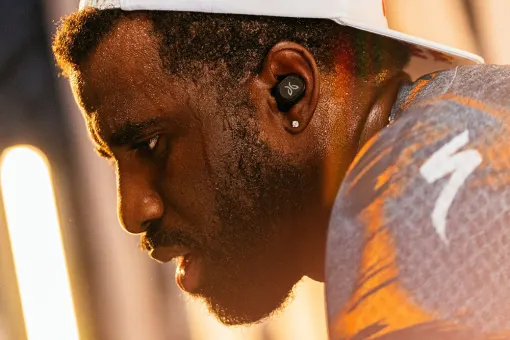 Final thoughts
For workouts, almost none of the competitors are better than Jaybird Vista 2, and in that sense, I will say that Jaybird has achieved the goal. The fit is, first and foremost, excellent – the earbuds can be used without any gnawing or tiring in other ways, even if you are running or doing other intense activity.
The sound is also training-friendly and is quite good with a bit of adjustment in the app, although not as refined and well-resolved as with some other brands. For most people, I think this is more than enough.
The combination of fit and sound means that these are probably the earbuds I'll choose in future running trips. If you are the type who prefers to hear the surroundings, Bose Sport Earbuds is also an excellent alternative. They do not go all the way into the ear canal, so you can listen to what is happening around you better – for better or worse.
All in all, a nice improvement from Jaybird, but if you already have the first edition and are happy with it, the gains are probably not as significant that you necessarily need to upgrade.
For others, these should be included in the assessment of whether you would like earplugs that work both for workouts and all-day use.
---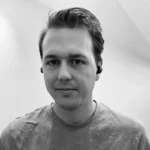 Espen is the Director of ProPairing and has written extensively about Bluetooth devices for years. He is a consumer product expert and has personally tested Bluetooth devices for the last decade.
---