Does a Bluetooth FM Transmitter Drain Your Car Battery?
This site contains affiliate links to products, and we may receive a commission for purchases made through these links.
Bluetooth FM transmitters are a handy tool to have on long drives. These transmitters pair your phone to your car using Bluetooth. You can use the transmitter on cars without an AUX port/cord. A Bluetooth FM transmitter lets you stream audio from your phone to your car. However, are Bluetooth FM transmitters safe? Will it drain your car battery?
Bluetooth FM transmitters are safe for your car. They use minimal energy so they will not drain it completely. Some modern cars include a socket that turns off other electric appliances when you turn the engine off. This means that even when you leave your transmitter plugged in, the battery will most likely not drain.
There is, however, a chance that your transmitter can drain your car battery. While this situation is unlikely, a battery that isn't in a good state will drain easily when you leave the transmitter on. I use my Bluetooth FM transmitter in my car, and I don't have any experience of it draining my battery, even when it's plugged in when the engine is off.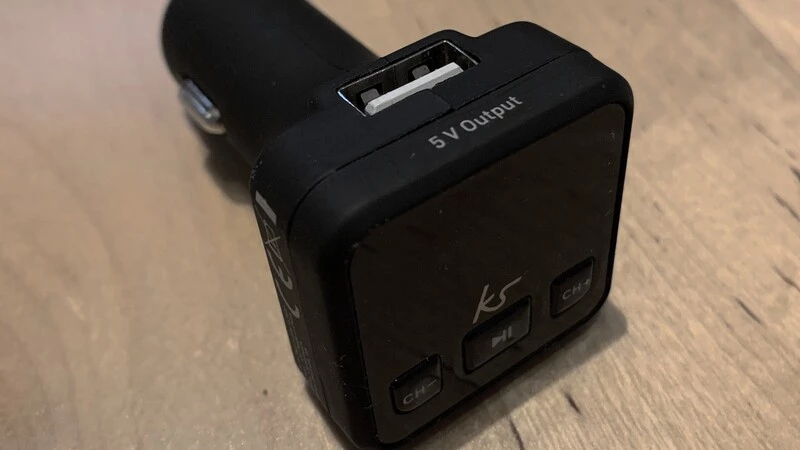 Will a Plugged in Bluetooth FM Transmitter Kill Your Battery?
Most transmitters feature an on and off button. This lets you turn it off even if it is still plugged into the car. This prevents the transmitter from draining the battery. However, the transmitter can still draw a little energy, especially if you use the transmitter when the engine is off.
The amount of energy used by the FM transmitter when the engine is off is not enough to drain your battery. I once left my transmitter plugged in over the weekend, and it only used a small amount of the car's battery.
To be on the safe side, ensure you unplug your FM transmitter. This gives you the extra security that your battery will not drain and gives you peace of mind. Also, make sure your car's battery is in good condition to prevent any unnecessary drainage.
READ MORE! Is it OK to leave Bluetooth on all the time?
How a Bluetooth FM Transmitter Works
A Bluetooth FM transmitter connects any portable device to your car, such as your smartphone. It's a neat tool to have as it gets rid of extra wires, lessening the clutter in your car. The transmitter plugs into a car's cigarette lighter socket and streams audio from your phone to the car's stereo system. You can also use the transmitter to answer and make phone calls.
The transmitter works with cars with no AUX cord ports or for those who don't want extra wires running about the car. Follow these steps to connect your phone to your car's FM system using a Bluetooth FM transmitter:
Plug the transmitter into your car's cigarette lighter socket
Connect your phone to the FM transmitter through Bluetooth
Check for an open/clean FM signal. This is necessary because you can't play your music on a signal that is already in use. You can search online to find clean FM signals in your area.
Once you find a clean signal, sync your phone and Bluetooth transmitter to the clean signal.
After you pair everything together, you can start sending audio from your phone straight to your car and enjoy your music.
READ MORE! This Is How A Bluetooth Transmitter Works! (Explained!)
Top 3 Bluetooth FM Transmitters
While most Bluetooth FM transmitters are very similar, I love the Nulaxy KM18 more than any other. I saw it had thousands of reviews on Amazon and decided to try it myself, and I am glad I did. The transmitter is relatively affordable and gives a great performance, making it a worthwhile investment.
It has a 1.44″ screen that shows the music you're playing. The screen also shows incoming and ongoing phone calls and your car's battery voltage. This lets you keep track of the battery's performance, letting you know if it's draining too quickly. The featured voltmeter makes it easy for you to monitor the battery's condition.
The transmitter also includes a 2.1A USB charging port for your phone. It has advanced noise reduction technology and is compatible with TF memory cards. These features let you enjoy clear audio at all times.
VicTsing Bluetooth FM Transmitter
This transmitter also has a 1.44″ screen. The screen displays the FM frequency, volume, incoming calls, the file name for the music, and the car's battery voltage. It comes with a flexible neck with a 120-degree adjustment to get a better viewing angle.
The VicTsing transmitter has CVC noise suppression for clean audio and phone calls. It supports media playback from USB flash drives, memory cards, or other devices using a 3.5mm cable. The transmitter also has dual USB charging ports.
This is another favorite transmitter of mine, especially when it comes to protecting my car battery. It features an overvoltage, short circuit, and overcurrent protection. This transmitter helps protect your car from any harmful voltage that might drain your battery or short circuit the car's system. It also displays the car's battery voltage for easier monitoring.
Aside from the cool safety features, the transmitter also features two USB charging ports: a Quick Charge 3.0 port. It has a high-performance microphone with CVC noise suppression for clearer audio quality. Another favorite feature is that it also uses USB flash drives to play MP3 files and allows voice navigation from my phone.
Conclusion
A Bluetooth FM transmitter is not likely going to drain your car battery. Your battery can drain fast, however, if it has a problem or if you leave your transmitter plugged in while the car's engine is off.
The three transmitters I have listed have a display screen that shows the battery voltage. This will help you monitor your battery's performance easier. Get your battery checked immediately if you notice it drains quickly while using your transmitter.
Check out this article about What is the Best Bluetooth TV Transmitter In 2022?