Will.i.am launching a high tech face mask with ANC earbuds: Xupermask
This site contains affiliate links to products, and we may receive a commission for purchases made through these links.
Since the outbreak of the corona pandemic, the use of masks around the world has risen sharply, and as we all know, most common medical masks are quite simple and boring in design.
Popstar Will.i.am wants to do something about this – according to Engadget, he is now launching his very own face mask.
Will.i.am, also known by his real name William Adams, is the front figure in the band Black Eyed Peas and his mask is marked by his interest in music. It has noise-canceling earbuds built-in.
The face mask, named Xupermask, is made in collaboration with the technology company Honeywell and designed by costume designer Jose Fernandez.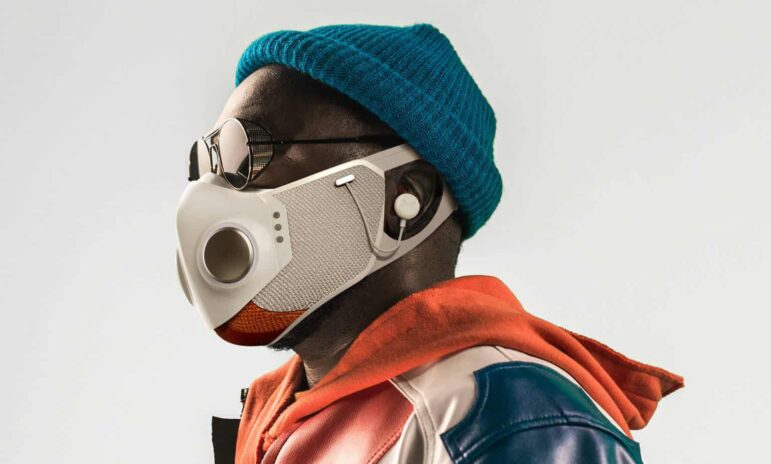 Luxury Product With A Premium Price
The fact that the face mask has noise-canceling earbuds built-in is crazy enough in itself, but the design screams a special product. So does the price tag – you have to put up $299 if you want the Xupermask to be yours.
But then there is no ordinary mask functionality you get here. Not only is it approved as a medical mask; it also has a HEPA filter. This is the same filter that Tesla used when advertising the launch of Model X.
With such a filter you will not only keep corona and other microbes out but also filtered air with almost all of the unwanted particles removed. LG also launched a similar mask last year, claiming that the HEPA filter could remove up to 99.97% of all particles.
Will.i.am does not state exactly how good this HEPA filter is, but it is probably in the same range. The mask has also two fans with three different speeds for easier airflow and cooling, as well as LED lights. 
The mask itself is very modern and minimalist in design, and the earbuds seem to be the same type as the Buttons earbuds Will.i.am already sells. They have Bluetooth 5.0, noise-canceling, and a microphone for calls.
The mask will be sold from April 8th via a dedicated website and will be available in both the US and Europe. It comes with two color choices, black and white, as well as two sizes.
Will.i.am On Design
This is not the first time Will.i.am goes to the market with technology products. He has launched two different smartwatches and a four-wheeled camera you can drive.
As with these previous products, the rapper is very concerned with the fashion aspect of the technology. He even claims in a "Q&A" on Honeywell's pages that the new mask is an attempt to create something that "… is both safe and stylish at the same time".
He also lists a large number of disadvantages with masks, including that they are difficult to wear with glasses, that the glasses become full of steam and that they are "hot and uncomfortable".
Xupermask is said to counteract these disadvantages. He also mentions that you have to take off regular masks to eat or drink, but as far as I can see, Xupermask has no solution for this.
The main purpose seems to be the style the mask gives you:
– Rather than looking "medical," regular people wanted to keep safe and also try to look a bit styling, says Adams.
Join Our Newsletter to receive the latest News, Exclusive Discounts & Offers!