The difference between Waterproof and Water Resistant Bluetooth speaker
This site contains affiliate links to products, and we may receive a commission for purchases made through these links.
With the rapid developments in Bluetooth technology, Bluetooth speakers are quickly taking over. Gone are the days of carrying around a large stereo with a cord and finding a plug to get power. Instead, Bluetooth speakers are much more portable and are perfect for playing music outdoors. 
But if you're looking to jam at a pool party, you might want to look into getting yourself a waterproof Bluetooth speaker. Unfortunately, as careful as you try to be, there's no telling when you drop your Bluetooth speaker into the water. That's a real bummer for a pool party. 
However, before you go out spending extra money on getting a Bluetooth speaker that can resist the crippling waters, you should do your research. You'd be surprised to know that waterproof and water-resistant features mean very different things. 
Getting the right wireless speaker means checking the battery life, sound quality, and most importantly, its ability to handle a dip. Unfortunately, getting all the right features at the right price within your budget range can be a complicated task.
READ MORE! 7 things to consider before buying a Bluetooth speaker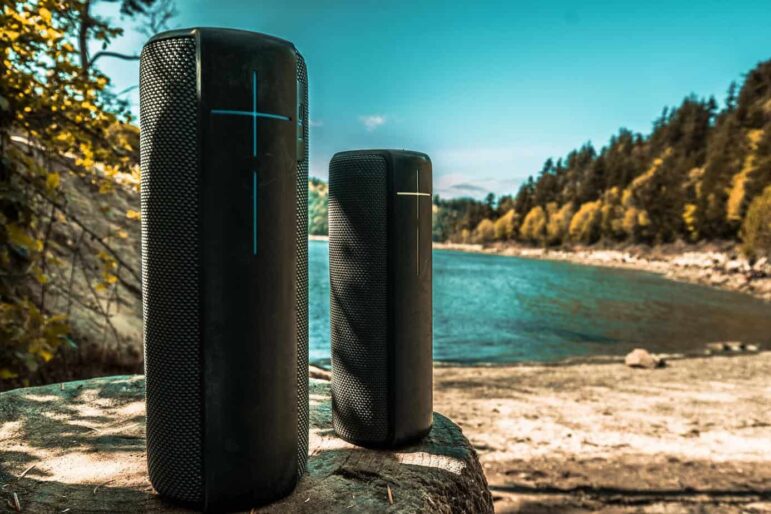 Waterproof Bluetooth Speaker vs. Water-Resistance Technology: The Difference 
The most misleading thing that people shopping for a wireless Bluetooth speaker often run into is getting the right waterproof speaker.
At first glance, Waterproof and Water resistance might seem the same to you. But it's not as simple as that.
The two terms actually have a significant difference in what they mean, and that might cost you a brand new Bluetooth speaker. So let's dive right into what the difference is between the two. 
Water-resistant speakers 
At a surface level, water-resistance might imply that your speaker can handle or resist water that it is exposed to.
However, if you got yourself a water resistance speaker, thinking that it is waterproof, you might learn the hard way that there is a difference. 
Water-resistance isn't that ineffective against water. It's just that the threshold for how much water it can ward off of its circuitry is lower than waterproof speakers.
These speakers work to cover up the sensitive components of your Bluetooth speaker. They do this by using metal or plastic coverings and coating up points of entry with rubber. 
This prevents the water from entering and damaging your speaker.
But there's a limit to which these safety measures can hold off the water. If it's a couple of splashes, then you shouldn't be too worried. But if your device got submerged in water, there's little you can do besides pray that it still functions.
Waterproof speakers
While a water-resistant speaker is built to keep some water out of the speaker, waterproof technology aims to keep your device correctly functioning even when submerged in water.
Whether it's the speaker design or impermeable mylar cones, these speakers are much more efficient at keeping sensitive electronics safe from water. 
But even if you have a waterproof Bluetooth speaker, don't go deep-sea diving with it. It may be good at keeping water out, but all tech has its limits.
Waterproofing abilities have a range of depths that they can be submerged in, and while it's hard to determine precisely how submerged in water your device can be, the IP ratings (Ingress Protection ratings) could help. More on IP ratings like ip67 and ipx7 rating later.  
Waterproof and water-resistant technologies each serve different functions. So before you have google assistant play your favorite music album and walk into a pool with your speaker, check if it is water-resistant or waterproof. 
Other types of wireless bluetooth speakers 
In today's world of marketing and advertising gimmicks, there's no shortage of terms thrown around to convince you to get a product. But sometimes, synonymous terms carry very different meanings.
Likewise, there are other Bluetooth speakers that sound like they will do just fine at your pool party. But, once again, terms can be misleading. So what are other types of portable Bluetooth speakers that you should know about? 
Water repellant speakers
As the name suggests, water-repellant speakers seek to ward off the water, not just keep it at bay as water-resistant speakers do. If you've seen parachute material raincoats or any water repellant gear, you will notice how water droplets seem to run down the surface like drops. 
Water repellant speakers use similar materials, specifically special nanotech, that are hydrophobic (i.e., do not absorb water). Coating potential entry points with this material can keep your speaker secure underwater.
This technology works better than water-resistant speakers, but we would advise you to stick with waterproof speakers. 
Weatherproof speakers 
Weatherproof speakers, not to be mistaken for waterproof speakers, are more different in their function. As the name implies, this type of speaker is not specifically designed to prevent water damage. Instead, weatherproof speakers protect your device from elements of nature. 
The sound quality and bass are pretty much like regular wireless speakers, but the design is different. The steel in these speakers is replaced with brass, and the paper diaphragms are made of mylar instead. Main components are also sealed off in watertight compartments.
All of these features make weatherproof speakers generally good for the outdoors. 
What's an IPX rating 
Now that you know of the different types of Bluetooth speakers out there and that a waterproof speaker suits pool parties the best, you might be wondering what the limits are. How far deep can your device be submerged in water? 
As we mentioned above, it can be quite impossible to determine exactly how much you can push even your waterproof device. But IP ratings can be a safe estimate. A good enough definition of IP ratings is as follows: IP ratings like ipx7 and ip67 ratings quantify how much water and dust your speaker can sustain. 
When you see an IP rating, you might find yourself a little confused as to what it means. Reading an IP score for your speaker isn't very difficult. The first digit represents how resistant your device is against solids like dust, while the second digit refers to its resistance against liquids, e.g., water. 
So a rating of ip67 means that the score for solids is six and liquids is 7. If you encounter an IP score containing the letter "x," such as ipx7, the "x" means that the device has not been rated for solids. If you have such a device, stay on the safe side and prevent dust from entering it.  
What do the numbers mean?
Now that you know how to read the IP Ratings let's take a look at what the numbers mean and then see what suits your use. A trend in IP ratings are the higher the ratings, the better the resistance to water damage. 
To start things off, an IP rating of 0 means that your device is not resistant to things like water and dust. An IP rating of 1 to 4 for the solid category means that the device can keep large objects out but might not be good against dust.
A rating of 5 is great against keeping dust out, but a rating of 6 (the highest for solids) means your device can keep 100% of the dust particles out. 
For the liquid scale, there is more range. A rating of 1 keeps water splashes from a vertical angle out. That increases to several angles at 2, and at 3, your device can sustain water sprays.
An IP rating of 4 is good in protecting your device from water at all angles. IP 5 and IP 6 prevent low pressure and high-pressure water out, respectively. 
As we move up to an IPx7 speaker, your device is safe in a 1-meter depth of water for a solid 30 minutes. An IP rating of 8 is the highest in this category. This rating allows for immersion deeper than 8 meters, while the duration for how long your device can be submerged in water depends on the manufacturer. 
Keep in mind that these numbers refer to a close estimate rating. Even then, it can be hard to verify whether, for example, a Bluetooth speaker with an ip67 rating is actually that.
These figures should give you a good estimate, but they are not a substitute for caution.
Don't go on dipping your wireless speaker in water for 24 hours just because it has an IP rating of 8. Besides, it's not like your speaker volume will become any more loud underwater.
What is the best Waterproof speaker? 
Even with all this knowledge about IP ratings and the differences in the terms that are used to describe waterproof Bluetooth speakers, you might get overwhelmed by all the options you have. Besides, waterproofing isn't the only feature you would be on the lookout for. 
Other things like the battery life, sound quality, bass, and updated drivers should be on your checklist when getting the best waterproof Bluetooth speakers. Should you get the latest Bose Bluetooth speaker, or is the soundcore flare the best waterproof Bluetooth device? 
Here are some of the brands with the best waterproof devices you can get based on user reviews. These excel in other factors like having a long-range or wi-fi connection.
READ MORE! The Best Outdoor Bluetooth Speakers (2021)
Ultimate Ears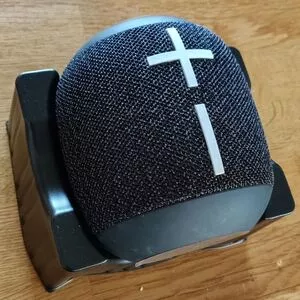 Ultimate Ears (UE for short) are one of the best companies for a waterproof Bluetooth speaker.
The Ultimate Ears Wonderboom 2 are their best Bluetooth speakers. It has a battery life of 10 hours, a wi-fi range of 100 meters, and an ip67 rating to protect against water and dust, and it weighs only 0.93 pounds.
The Ultimate Ears Boom 3 is another great product with an 8 hours battery life and a fashionable design, although the wireless range is only 30 ft. 
Another top-tiered product released by Ultimate Ears was their Ultimate Ears Megablast.
This speaker has a similarly sleek design as the boom 3. It packs a whopping 20 hours of battery life, over 100 feet of wireless connectivity, and two 2″ and four passive radiators for drivers. Although this is a great product overall, it falls on the pricier end of the pack with a 249 dollar price tag. 
SONOS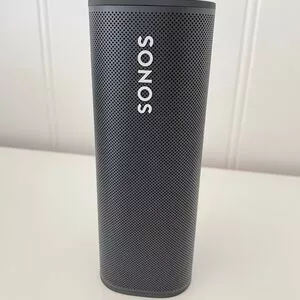 While Ultimate Ears has a number of pretty decent products, nothing compares to the SONOS Roam.
This speaker is perfect for all uses, indoors and outdoors. It's a lightweight speaker, weighing around 0.95 pounds. The SONOS Roam has a wireless connection range of over 100 feet so that you can switch around songs from the other end of the party. 
Its featured drivers are a tweeter and a mid-woofer. The bass on the Sonos Roam is one of the most powerful ones on our list, although some might go to the extent of saying it's overwhelming. It also has 10 hours of battery life so that a full charge will carry you through the night. 
Do keep in mind that this comes with a price tag of 169 dollars, which, although pricey, is a pretty good deal considering all the top-notch features.
READ MORE! Sonos Roam review 
Anker Soundcore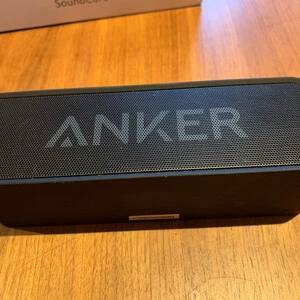 The Anker Soundcore flare is one of my personal favorite Bluetooth speakers. It features a battery life of 8 hours, weatherproofing, and a decent sound in terms of volume. The best thing about The Anker soundcore flare, however, is that it's a great option for people on a budget. Its price range is 60 to 80 dollars. 
The Anker Soundcore Motion+ follows the trend of budget-friendly, solid products. For a cheap price, you can get a 15-hour battery life, an IPx7 water resistance, as well as a voice control feature. The speaker is made to be budget-friendly at the end of the day, and so there are quite a few places where the developers cut corners. 
The two main downsides are the sound quality, specifically a low bass, and a poor voice command system. It doesn't detect sounds very accurately when there is a lot of background noise, at a party, for instance. All things considered, it may not be the best outdoors speaker, but it's a great option for indoor listening. 
JBL (Great battery life)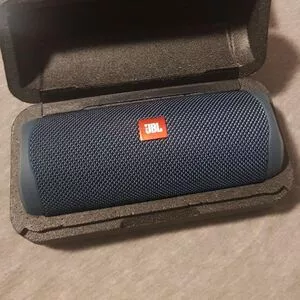 JBL has been a massive seller of Bluetooth speakers for quite a while now. One of the leading features in most of their products is the battery life.
The JBL Flip 5 is a great option because of a couple of reasons. For about 100 dollars, you can get a waterproof Bluetooth speaker that has a 12-hour battery life, an ipx7 rating, 40mm drivers, and weighs about 1.2 pounds. 
The JBL charge 4 is another budget speaker that offers great value for money. It's slightly heavier at 2.2 pounds but showcases a massive battery life of 20 hours.
If you frequently host parties and are looking to up your game, the JBL Boombox 2 is definitely the way to go. Considering it's a boombox, it weighs 12 pounds. This monstrosity is fully waterproof, but don't go diving with it. Its volume really brings life to any party, which is just amplified by the fact that it has 360 degree sound. 
Bose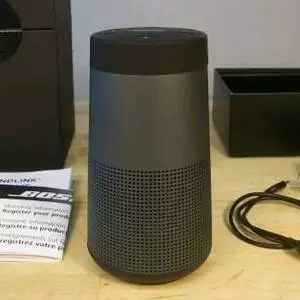 The Bose Portable Smart Speaker is one of the best options for a waterproof Bluetooth speaker. This smart speaker has a built-in voice command system, so you don't have to get out of the pool to play your songs. It also champions a 12 hours battery life, 360 degree sound, and strong bass.
The Bose Soundlink Revolve is another decent portable speaker by Bose that holds up with its reputation of sleek, modern designs. But this speaker falls in the middle of the pack as its upsides are neutralized by its downsides. It offers a 360 degree sound with a portable, classy design. 
It has an IPx4 rating for water and dust resistance and can be charged by a USB cable.
Where the Bose Soundlink Revolve suffers, however, is the primary sound quality (not a place to lack in as a speaker). The sound quality is good enough for average use, but the dynamics and frequency accuracy don't hold up to some of the bigger names on our list. 
Conclusion
Getting the right Bluetooth speaker can be a bit daunting. This is especially true with all the different gimmicky terms that are thrown around for advertising which are sometimes misleading.
Knowing the differences between the different ways in which a device is protected by water damage is crucial in picking the right waterproof Bluetooth speaker. 
Even if you figure that part out, it's important to study the limits of your Bluetooth device when it comes to waterproofing ability. Knowing about IP ratings and understanding what they mean can be a great place to start.
Regardless, if you blindly picked one of the waterproof Bluetooth speakers that made it to our list, you will be satisfied with the features you get. 
Now get yourself the best waterproof speaker and throw amazing pool parties for your friends and family.
Join Our Newsletter to receive the latest News, Exclusive Discounts & Offers!