The Best Outdoor Bluetooth Speakers (2021)
This site contains affiliate links to products, and we may receive a commission for purchases made through these links.
If you are thinking of buying a new Bluetooth Speaker to use outdoor in 2021 but really don't know where to start?
Whether you are going on a hiking trip in a rainy forest or having a party at the beach, I will help you decide what speaker is best for you and your needs.
In this article, I will show you 5 different speakers that are among the best for their use.
The best overall speaker that I think will suit most people is the JBL FLIP 5, Waterproof Portable Bluetooth Speaker, and the best budget one is the Ultimate Ears WONDERBOOM 2, Deep Space.
These speaker models can withstand rough handling, all weather conditions, hold a charge longer, and still impress those you meet on your way. Let's dive in.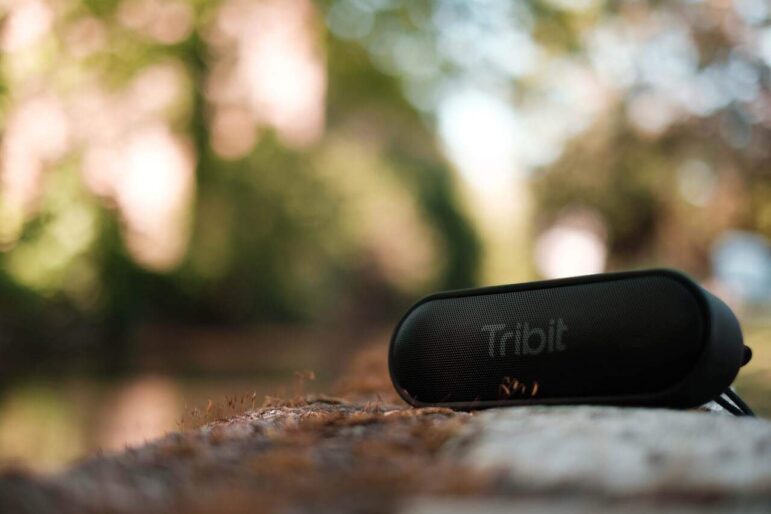 My Favorite Outdoor Bluetooth Speakers
How To Choose The Best Outdoor Bluetooth Speakers
Before you buy an outdoor Bluetooth speaker, you must decide what's important to you and how you will use the speaker.
There are multiple ways you can use your speaker outdoors.
You could mount them on your motorcycle, bicycle, hold a party anywhere from a backyard to a camping site in a rainforest without compromising the sound quality.
So what traits should we consider when deciding on what speakers to buy? When I make a buying decision, I emphasize the following:
Sound quality
Battery life
Water resistance
Shockproof
Design and additional features.
Price / Value for money
READ MORE: What do Waterproof Ratings Mean? – IP ratings explained
Top 5 Outdoor Bluetooth Speakers
Here I'll dive into the top 5 Best Bluetooth Speakers to use outdoors.
Each review will contain a list of pros and cons with a key benefit to each product to help you make an easy decision.
In doing so, you can easily figure out which product is best suited for your needs.
1. JBL FLIP 5, Waterproof Portable Bluetooth Speaker
Best Overall Product Suited For Most People
"Choose this if: If you want a speaker made for outdoor use, that is light weighted, waterproof, shock resistant and deliver great sound quality."
Reasons to buy
Enormous volume and bass resources
Withstands both sand and swimming
Good battery life
USB-C charging
Things to think about
Pairing does not work with older models
No equalizer in app
Now JBL is a speaker manufacturer recognized in the audio industry, so the FLIP 5 is off the bat a quality product.
JBL has focused on what people actually need in an outdoor speaker. The main selling point is the feature of being light weighted, waterproof, shock-resistant, and delivering great sound quality.
Sound Quality
What really impresses me is the deep bass this small speaker actually puts out.
And in combination with a detailed sound that feels quite full and crisp on both the high and mids, you will absolutely impress those around you.
Battery Life
The USB type C port offers quick charge, and when full, JBL claims that the 4800mAh battery would last 12 hours of playtime. In my indoor test at around 75% volume only lasted 10 hours and 43 minutes.
That is not bad at all, but I suspect that if you go to the beach on a hot summer day and play this on 100% for hours, you will probably get some shorter playtime than the claimed 12 hours.
Water resistance and shockproof
Rugged rubber housing makes the speaker IPX7 waterproof.
You can bring it to the beach or a pool party without worrying about it being wet. It can actually stand to be submerged for 30 minutes at 3 feet of water.
Although the speaker stands to be wet, it won't float. So please don't drop it from a boat or somewhere with deep waters.
Design
JBL has not changed a lot with the design when compared to the Flip 4. It's still a cylindrical-like speaker, with exposed passive bass radiators on each side.
A JBL FLIP 5 is made with durable fabric, which makes the Bluetooth speaker ideal for long exposures in the harsh sun and snow or rain. The material does not affect the output quality, which means that one speaker is enough for small parties.
As a buyer, you have 14 color variants to choose from, which helps blend in with every event. The speaker is the same size as a water flask, so you can mount it in a water bottle holder on your bike or put it in your backpack.
With a weight of 540 grams, you can easily carry it around for a whole day.
There is also a string on the speaker that you can use to attach the speaker to different objects like your backpack, a tree, the shower, or other accessible objects near you.
On the rubber design, there is a Bluetooth button, volume, and a power button. There is also a battery indicator and a USB-C charger. The buttons are responsive and easy to tap even when the speaker is wet.
There's no light on the buttons, so if you don't know where the different buttons sit, you can fumble a little in the dark. The rubber design makes the grip good both when dry and wet.
Other features
With the app, you can link multiple JBL speakers, which can be handy if you need more sound at a party or with larger groups of people outdoors. Or you can just pair two speakers together to get an awesome stereo sound.
What I do miss is an equalizer in the app to adjust the sound in different environments.
The speaker doesn't have a microphone, so if you plan to use it to answer phone calls, you should probably choose another speaker. 
Since JBL didn't upgrade to Bluetooth 5 but is still using Bluetooth 4.1 on this speaker, you still have to expect a little lag on the sound if you try to watch youtube or Netflix from your phone.
Final Verdict
If you want a speaker made for outdoor use that is light-weighted, waterproof, shock-resistant, and delivers great sound quality, JBL Flip 5 is probably the speaker for you.
2. The Bang & Olufsen Beoplay A1 (2nd gen)
Premium portable speaker with a premium build quality
"Choose these if: you want a premium portable speaker, with a premium build quality and design, and great sound."
Reasons to buy
Great design and build quality
Good battery life
Waterproof
EQ adjustments in app
Stereo pairing
Voice control
Things to think about
The portable speaker category is a very crowded market with JBL, Bose, Marshall, Ultimate Ears, Sony, and the list goes on.
Companies have to get more and more creative to distinguish themselves from the competition and offer great sound quality in a small and portable form.
Sound Quality
Inside, you've got a single 3.5-inch woofer and a three-quarter-inch tweeter powered by a pair of 30-watt class D amplifiers. It's a well-balanced speaker, and there's not really anything that really lets the speaker down.
It's a good all-rounder with clear vocals and a good punch of bass, but it does lack a tiny bit of refinement.
What I did really like, though, is the 360 sound. Put this in the center of a social gathering, and everyone should hear the same sound.
Battery Life
One of the most important elements of a portable speaker is to squeeze out the best sound possible from the speaker's battery life. And the A1 has a decent battery life with 18 hours on a medium volume.
I actually got closer to the 23-hour mark when playing on a low to medium volume. B&O claims it will actually last up to 43 hours at a lower volume.
It takes around three hours to charge it from zero battery which is around average. The A1 charges via USB-C, which is great, and it comes with a charging cable but no plug, so do bear that in mind.
I will point out that the led light indicator on the top of the speaker does help you keep track of the battery life.
Water resistance and shockproof
One of the most important improvements they have made versus the first generation is that they've upped the weatherproof rating.
It's now IP67 rated, and that means it's completely impervious to dust and sand and can even withstand being submerged in water up to 1-meter depth for up to 30 minutes.
So any accidents where you drop it in the pool won't be a problem if you can rescue it within 30 minutes.
Design
I've always admired B&O for its build quality and attractive design, and this certainly shines through.
The A1 is built really nicely, and I love this little waterproof leather strap that you can attach to a rucksack hook, and it gives it that Scandinavian edge.
With a weight of 558 grams, it's lightweight enough to carry around but feels reassuringly sturdy and high quality at the same time.
It comes in various colors, gray mist, black anthracite, gold-tone, pink, and green, so you've got plenty of choices there.
Around the base, you've got a play-pause button and volume controls, along with the power, Bluetooth, and microphone controls, which are really all you need in a portable speaker. And they feel really nice and quality to the touch.
The rubber base is nice for keeping it still on a surface, and the grille definitely feels premium and well made. I really like the style of it.
It's definitely larger than an Amazon Echo Dot, but of course, this has the benefit of full-on portability, a waterproof design, and bigger drivers.
So it's good to grab and take to parties, or pop in a backpack and take to the beach. All in all, this is probably one of the more appealing portable speakers I've seen aesthetically.
Other features
B&O has made a few more improvements versus the first generation. They've added native amazon to voice control. That's handy for playing music, skipping tracks, adjusting volume, and more without needing to pull out your phone.
The design has also been updated to be five percent lighter, and it has a more modern and refined aesthetic, and the buttons are now in a clearer position.
Finally, you've got the highest standard of Bluetooth (5.1), an improvement on 4.2 in the first generation.
Another great feature is that you can stereo pair them for a dedicated left and a right if you have two of these speakers.
So if you've got a large outdoor gathering, you can place one in each corner to extend the sound stage. And I'm really impressed with how two of these sound.
If you're fussy like me about tuning the speaker to different bass levels or treble, the speaker will let you tweak these things in the Bang & Olufsen app, which is rare to find in portable speakers. 
It will even stream high-res audio, which is quite rare for a portable speaker. Other than tweaking the EQ, I wouldn't really use the app too much.
The A1 can also be used as a speakerphone for calls and offers three internal microphones to help make your voice nice and clear.
This is nice to have, but I'm unsure how many people would frequently use this unless they wanted a speaker for hands-free calls or conference calls.
Final Verdict
I'd probably describe the B&O A1 as an echo dot on steroids because it has built-in voice control.
But it offers more superior sound quality, and it's fully portable and weatherproof.
It's really for people looking after a premium portable speaker, with a premium build quality.
3. The Bose SoundLink Revolve – Triple Black
Fantastic sound quality and design
"Choose these if: you want to enjoy great sound in a truly 360-degree experience, with beautiful design, but you don't need to swim with your speaker."
Reasons to buy
Great sound quality
True 360-degree sound
Beautiful design
Things to think about
Not fully water or dustproof
The Bose brand is among the top 5 best speaker manufacturers on the market, and it shows with their latest model, the Bose SoundLink Revolve. This hot coffee flask-shaped outdoor Bluetooth speaker offers a touch of sophistication by supporting Apple's Siri and Google Assistant applications.
One advantage of this Bose speaker is that the battery does not get damaged when you forget to unplug it after the charge reaches full capacity.
You will immediately notice the superior sound quality from the Bose SoundLink Revolve compared to other brands in this category. This model also comes with a microphone that supports a hands-free calling feature.
The battery will last 12 hours, but those will be hours spent listening to crisp sound quality. 
Reasons to buy
Its cylindrical shape allows you to enjoy a 360-degree surround sound experience compared to other brands, which tend to be one-directional.
This feature becomes practical during a party where visitors can roam around and still enjoy the same sound quality.
The aluminum body enables these outdoor speakers to function optimally in dust and survive some water splashing.
The build quality and materials are used to improve the durability of the speakers. The Bose SoundLink Revolve will be at home anywhere from your backyard garden to a remote camping site.
Bose decided to retain technology such as AUX, USB, and TF Card when other manufacturers were eliminating features. Even the packaging comes with a wall charger, something that's become rare in 2021.
Things to think about
Don't expect to shower with your speaker or go for a swim across the park river because the model is only water-resistant (IPX4) and not waterproof.
There are other models in the market that offer more features at a lower price point.
Final Verdict
The Bose Soundlink Revolve is an excellent choice if you want to enjoy great sound in a truly 360-degree experience and want a speaker that has a beautiful design.
Just remember that this speaker lacks true dust and waterproofing.
READ MORE: What do Waterproof Ratings Mean? – IP ratings explained
4. The Ultimate Ears MEGABLAST Wi-Fi and Bluetooth Speaker
Good speaker with Alexa built-in
"Choose these if: you are an Alexa user and need a waterproof speaker with loud volume, this speaker is perfect for you."
Reasons to buy
Excellent all-around sound
This speaker is loud
Waterproof (IPX67)
Alexa built-in
Things to think about
The bass is not as good as their rivals
Alexa can't hear my voice when the volume is loud
This speaker is in the upper end of the outdoor speaker market and the price range is maybe the best combination you can get in regards to price and portable. 
Sound Quality
This speaker is loud and can give you up to 93 decibels (UE loudest speaker).
For comparison, you can easily fill up a medium-sized room with a lot of noise. So for outdoor use, it will have enough sound to work in almost every actuation, except the biggest parties.
The Megablast has an all-around good and crisp sound. Although the high and the mids of the sound are very good on this speaker, the low ends, the bass is not as good as a lot of their rivals.
So if you like Tekno-type music where it's all about the bass drum, you would rather own a speaker like JBL Xtreme 2.
A massive bonus is that the Megablast helps you avoid any distortion, even at full volume. This is something that not even a lot of the very expensive speakers can avoid. 
Something unique to the Megablast is that it has a 360 degree sound so the speaker sounds the same for all listeners.
Battery Life
The Ultimate Ears MEGABLAST offers around 16 hours of battery which is in line with its rivals. 
Water Resistance and Shoockproof
The fact that this speaker is waterproof gives you the ability to go swimming with the speaker by your side and still enjoy music while riding in heavy rain.
The speaker is IP67 rated and can be immersed in water up to 1 meter for 30 minutes. It is a durable device that will survive the ruggedness of outdoor activities. 
Design
The Megablast is formed like a cylinder with two buttons on the side (plus and minus) and a power button on the top. If you like it simple you can't go wrong here. And when you are bringing the speaker outside you probably won't need more.
You can choose from 6 different colors. Dependent on where you want to set your speaker you can choose the color that suits your need.
I prefer the black one since it will work basically everywhere whether you want to use it in the living room, in the garden or at the beach. In my personal opinion, I think it looks a little more exclusive than some of the other colors.
Other features
The Megablast comes with built-in Alexa which will be a massive bonus for those who use Alexa.
One of the problems with Alexa is that if you have a sound higher than 50-60%, Alexa has problems hearing your voice. I had to shout to the speaker for it to hear me and that can be a little annoying in the long run.
Since the Megablast is able to output a very loud sound, the Alexa will not hear you when playing at full volume.
In the Ultimate Ears app, you can connect the speaker to WiFi and you can tweak the EQ independently. If you like more bass or the voice crisper you can configure this in the app.
Final Verdict
Super compact design with a very loud volume for the size of the speaker. It's at the right level of price with the features in the speaker.
So if you are an Alexa user and need a waterproof speaker with a loud volume, this speaker is perfect for you. If the bass is your main priority, you should probably look elsewhere.
5. The Ultimate Ears WONDERBOOM 2, Deep Space
Best Budget outdoor speaker
"Choose these if: you need a solid companion outdoors that is waterproof and floats, shockproof, and offers a great sound to a cheaper price."
Reasons to buy
Engaging sound with good bass
High volume for it's size
Great battery life
Floats in the water
Water- and shockproof (IP67)
Easy to pair with other speakers
Things to think about
No USB-C charging
Too sharp treble at high volume
The Wonderboom 2 Bluetooth speaker is tiny compared to the models mentioned above, but it produces a crispier sound than most of them. The battery will last around 13 hours, and the wireless range is 100 ft.
Reasons to buy
At only $82 (at the time of writing), it is also the cheapest despite being a waterproof outdoor Bluetooth speaker. Some speakers cost more than $200 and are just water-resistant at best.
It is rugged enough to be your skate buddy, shower companion, and your entertainment at the beach.
Unlike most speakers, the Ultimate Ears WONDERBOOM 2, Deep Space floats, a feature that's handy when using it on a boat. When other speakers get dust and sand clogged, this one just needs a rinse while it's still blasting away.
Another advantage of this cheap gem is that it's compatible with any wireless and Bluetooth-enabled electronics.
In addition to the convenient portability, the compatibility makes the Wonderboom 2 a proper companion on biking trips, boat adventures, and beach escapades.

The buttons feel good, and you can control the music without touching your smartphone or Bluetooth device.
The speaker is surprisingly loud for its size, and the 360-degree surround sound feature sweetens the experience.
Things to think about
It sounds shaky at max volume, but you can work around this by maintaining normal volumes even when at the beach.
Final Verdict
For those that need a solid companion outdoors that is waterproof and floats, shockproof, and offers a great sound at a cheaper price, the UE Wonderboom 2 is as made for you.
Conclusion
The above-mentioned are the best outdoor Bluetooth speakers you should consider purchasing in 2021.
Even if you don't plan to buy any of them, at least they'll make a memorable gift for that special person in your life. The good thing is that it doesn't matter whether they are young or past 70 years, these speakers will make both your lives better.
In today's world of online distractions, it's considered life-saving to listen to your music through a Bluetooth speaker than a headphone, earbud, or AirPods.
An outdoor Bluetooth speaker boosts your situational awareness because you will listen to all other sounds around you.
For example, when home, you can hear when the sleeping baby in the house gets up. Earphones don't offer such functionality.
And please comment and share your experience with the different models. This can help others to make their best decisions.
Also, join our newsletter in the box underneath to get updates on new products and offers.