1MORE Pistonbuds review: Best Earbuds Under $50? (2021)
This site contains affiliate links to products, and we may receive a commission for purchases made through these links.
I was quite excited about 1More's True Wireless ANC when testing these earlier in 2020. Among other things, they offered insanely engaging and great sound, supported by two separate elements in each earbud.
True Wireless ANC was the flagship model of 1More, and since then they have launched both more, and cheaper variants.
Today's test model, 1More Pistonbuds, is the most affordable of 1More's completely wireless earbuds and has a price under $50.
If you are looking for earbuds with good sound, and do not need all the fancy stuff, then you can likely go for these instead of AirPods or the other more expensive ones.
This is simply a good buy.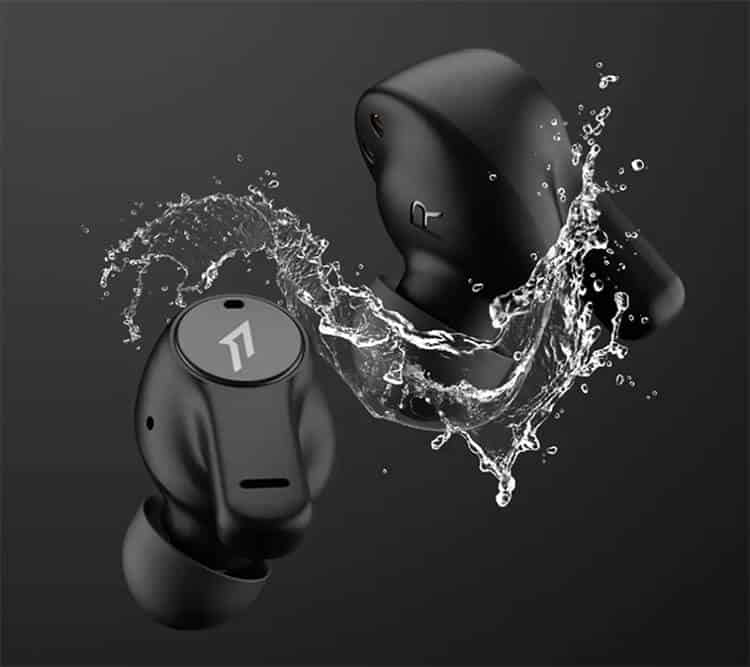 Good and affordable earbuds with focus on the right things.
Reasons to buy
Warm, bass-heavy and engaging sound
Lightweight, good fit, and high comfort
Pretty good call quality
The case is Lightweight and pocket-friendly
You can charge many times from the case
Very affordable
Things to consider
Somewhat weak battery life
Struggling a bit if there is a lot of noise in the background during conversations
Maybe too much bass for some
No ambient mode or other extra functionality
"Choose these if: If you are looking for earbuds with decent sound quality, and don't need all the special features available on the market, you can simply go for these instead of AirPods and the others. This is simply a good buy."
Sound Quality
In terms of sound, I had slightly mixed hopes for PistonBuds. Of course, the price speaks against the best sound experience, but my previous experiences with the brand have been good.
The result is somewhere in between. PistonBuds has, first and foremost, a fairly prominent bass reproduction. They add a little extra at all times, but fortunately not as much that the bass becomes completely overwhelming.
It would have benefited from a little tightening – the bass here is sometimes a little soft and fluffy, not as dry and firm as I would like.
The level of detail is more than expected for plugs in this price range, while vocals appear a little well-rounded and in some cases with a slightly synthetic touch. There is a difference in the sound quality if you compare to more expensive plugs, but the result is still quite good.
If you have medium requirements for sound, you will probably be quite happy with these, and I actually think I could have had these as main plugs and been happy with them.
They are engaging and well-balanced, but you naturally do not get quite as great experiences as in the best true wireless plugs – such as the Sennheiser Momentum True Wireless 2 and 1More's own True Wireless ANC.
My experience is that they either beat or are about on par with other "cheap plugs" I have tested before, such as Xiaomi's AirDots Pro, Andersson's TEW-5000, or Supra Nero-TX.
Battery Life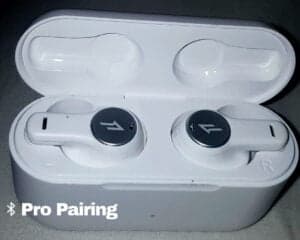 The plugs are called PistonBuds, and are in many ways reminiscent of Apple's AirPods Pro in design. They have the characteristic AirPods pins that point down towards the mouth, but they are not as long as on standard AirPods.
Otherwise, the case may hint a bit that this is not a very expensive product – it is in plastic and very light, but most importantly is that it is compact and pocket-friendly.
Battery life is often also an element that gives an indication of what price range a product in this category is in, and this also applies to PistonBuds. 3.5 hours on a single charge is not exactly class-leading, but you get at least quite a few extra charges in the case, so the total battery life is stated at 20 hours.
The experience is that it seems to correspond quite well with reality. Maybe it's also a little optimistic. 3-3.5 hours is of course not terribly impressive, especially not in a time where the best manage both eight, nine, and ten hours, but it will probably be enough for most people – especially at this price.
Charging the case takes about an hour and a half.
Functionality
The plugs themselves have a small touch panel on the outside, but 1More has chosen to limit the functionality to a minimum. Here you only get play / pause, answer / hang up, and the opportunity to activate the voice assistant.
To change the song or adjust the volume, you simply have to fish up the phone from your pocket or purse, which can be a bit annoying.
They also do not have any kind of ambient mode, as many earplugs nowadays have, and no active noise cancelling. They can play sound, and that's about it.
Three different sizes of rubber pads are included in the box, and these are of the type that is easily "pointed" towards the ear.
The medium size that that is attached out of the box works quite poorly for my ears, but the smallest fits very well with me.
PistonBuds are light plugs, the weight distribution is good and there is little that pulls them out once they have found a place in the ear.
The comfort is good and they are IPX4 certified, so they should withstand a little rain or sweat.
In sum, it should not be a problem to use these for running or other training – although there is always an advantage with wings to keep them in place.
Good synchronization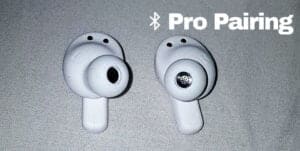 By the way, PistonBuds only supports AAC in addition to the basic SBC codec.
Together with the iPhone, they have impressively good synchronization between sound and image, even in usually challenging apps like Instagram.
Also on Android it is reasonably good, but here the app had to wait a bit to get the sound and image in "sync".
I must also mention that the plugs have no manual command to pair with new devices. They simply go into pairing mode if they lose the connection to the already paired device, and stay there for three minutes before turning off.
I also experienced that the old pairing had to be deleted from the phone before we could connect them again after they had been paired with another device, which can be a small source of frustration if you should want to use them with more than just your phone.
They do not support connection to multiple devices at the same time, but almost no other type of earplug does either at this price range.
The accompanying 1More Music app is about as unfunctional as the plug-ins themselves. It really only serves as a portal to be able to upgrade the firmware and contains no equalizer or the ability to adjust on anything else.
1More will, however, be honored for the connection stability, which has been excellent during the test period. Only once have I experienced hiccups, and then it corrected itself in two seconds.
I have also experienced the range as good, even with walls between indoors.
Conversation Quality
Call quality is an element that 1More highlights with PistonBuds, thanks to a total of four microphones, and the ability to recognize and highlight your voice.
Here, too, I must say that 1More absolutely gets approved, even though I may not think they live up to the marketing message. In quiet surroundings they are good, but they struggle a little more when there is more noise around.
With a price tag of less than $50, I hardly expect the other party to hear me at all, and this was better than what I have experienced in many earplugs at a much higher price.
Conclusion
1More PistonBuds are among the cheapest wireless earplugs on the market, and for as little as $39.99 (price when writing)  you can get earplugs that match many competitors with a much higher price, in terms of sound, call quality, and fit.
They play bass-heavy and engaging, although a little more open sound had lifted the experience even a notch.
Waterproofing is something even earplugs worth several hundred dollars can lack, but PistonBuds comes with IPX4 certification and can therefore withstand both sweat and rain.
The biggest disadvantage is probably the battery life, which is "only" 3.5 hours in the plugs themselves, but you get at least a good deal of extra charges in the case. 20 hours in total is certainly not that bad.
In short: If you are just looking for earbuds with good sound quality and do not need all the fancy stuff, then you can likely go for these instead of AirPods and the other more expensive ones.
This is simply a good buy.
Join Our Newsletter to receive the latest News, Exclusive Discounts & Offers!